Krisannrio 'Vienna'
 (The above photograph won 2nd place, in an online competition judged by Mic Martin of Dog Borstal) 
Meet the beautiful Vienna  (half sister to our own Tayzee)
DOB 7/10/2007          Hip scored November 2008   5:6 
 Bred by our friends Paula and Mike Randall, Zakasia German Shepherds.
Here is her Mum, Champion Jaseuter Ivory Lace, seen below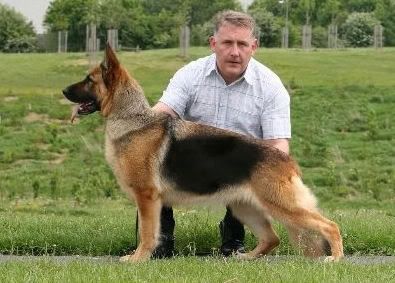 Here is her Dad, Champion Nikonis Colin, British Sieger winner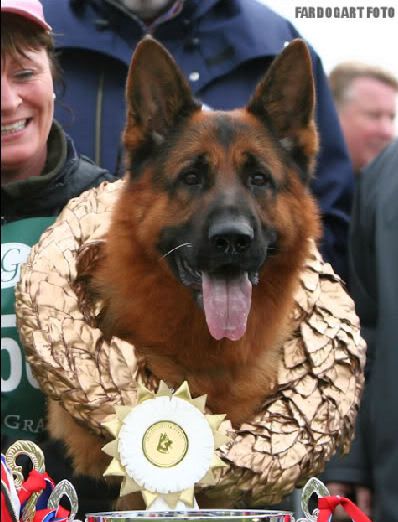 Both Vienna's parents are standard coated, but she is a long coat, and a gorgeous one at that !
To see the rest of this series of picures, please click on 'BUTTERCUP BABY' 
Here she is still at Zakasia, aged 5 weeks... 
Vienna came to Krisannrio, aged 7 weeks, she was such a beautiful baby...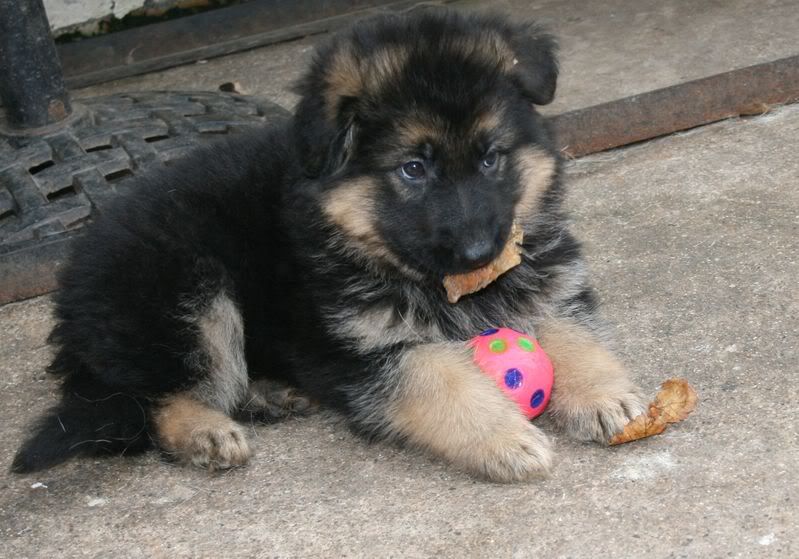 Shanti was delighted at having a 'baby one' again and couldn't wait to start Mothering her...
Shanti showed infinate patience with Vienna and treated her like her own baby, a heart touching video of their fisrt meeting can be see by clicking 'CAN YOU FEEL THE LOVE TONIGHT ?'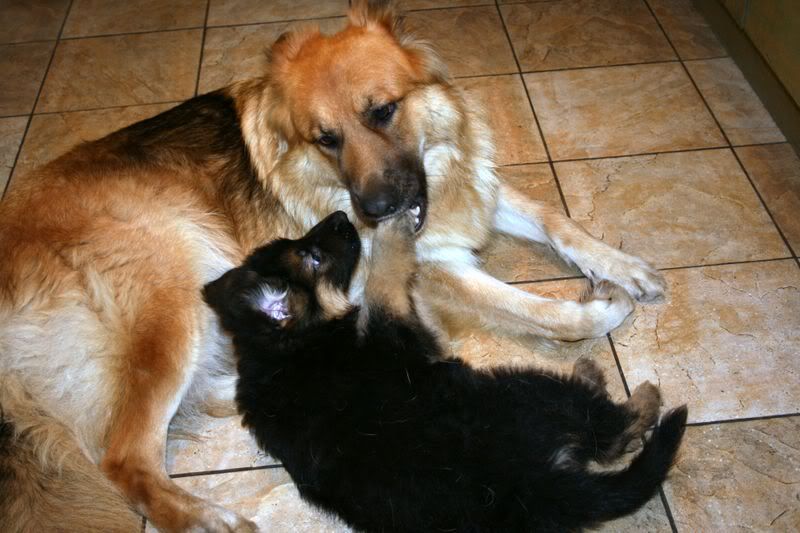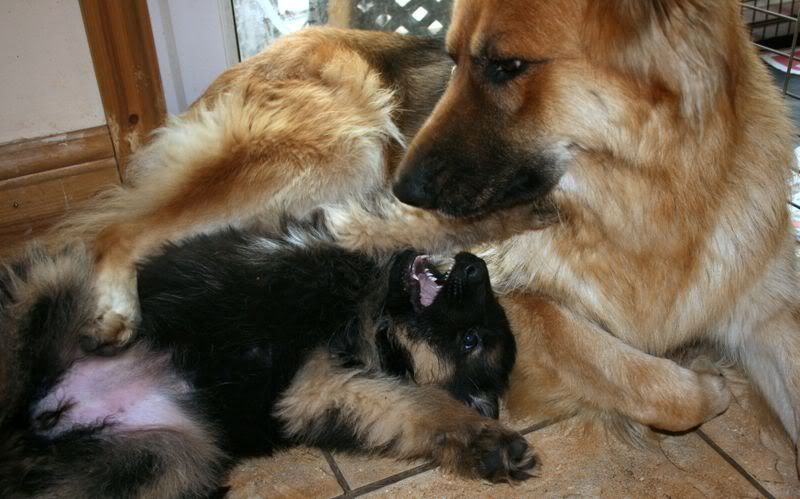 Vienna was another terror of a puppy, constantly poking her nose into places she shouldn't !
She needed help getting that off !!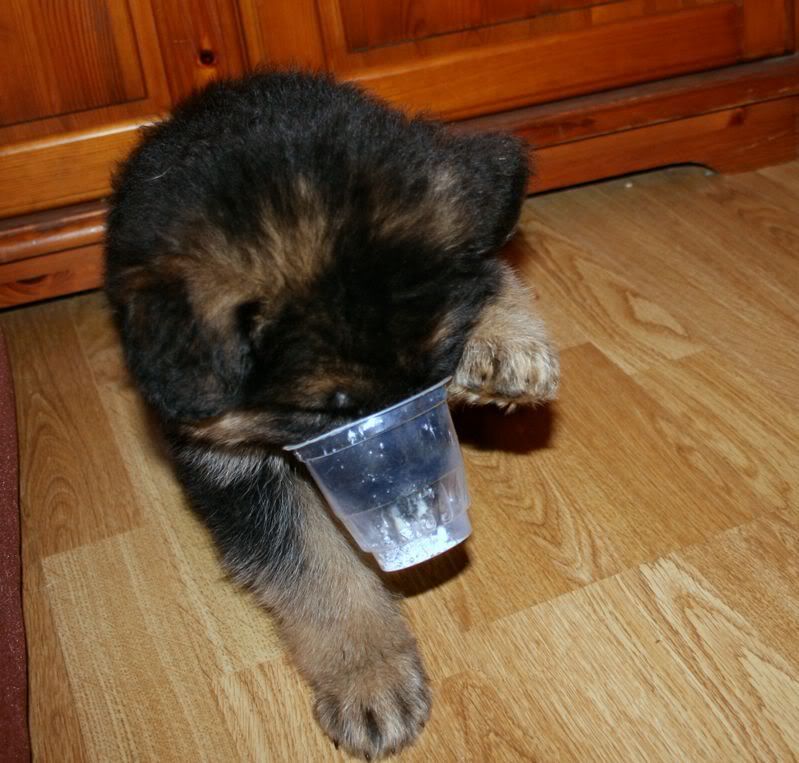 She thought that the cats were real live toys, provided for her enjoyment and is still very much of that opinion, although our cats are old hands at dealing with enthusiastic GSD pups and nobody has ever been hurt.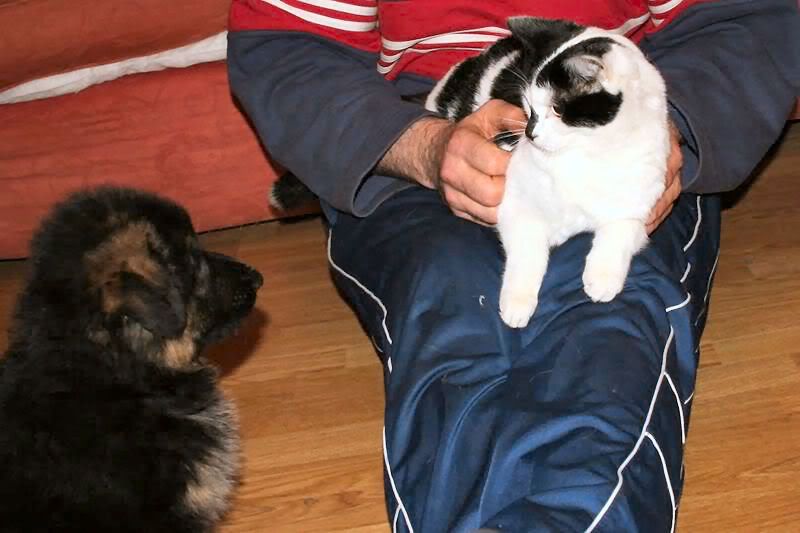 Giz a bite then .....
Her ears started to go up at around 9 weeks and once up they stayed up, even during teething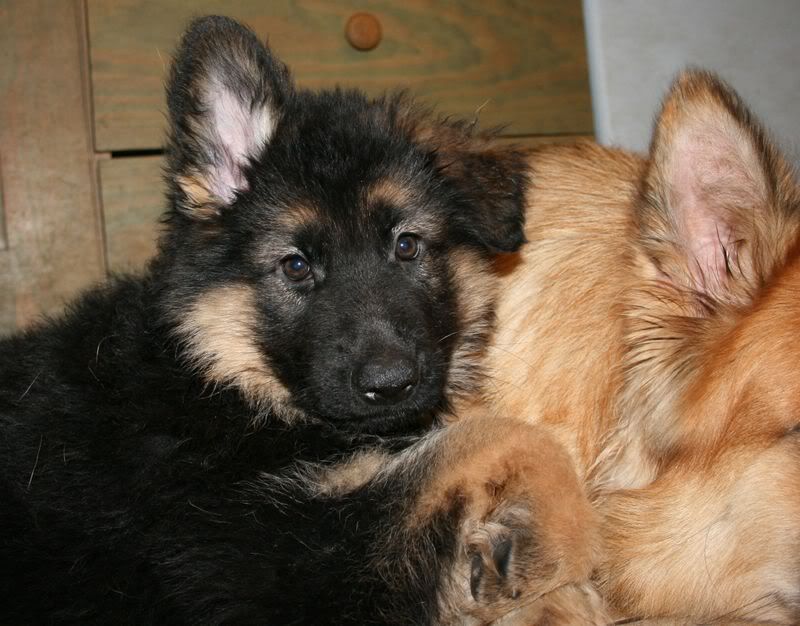 Convenientely held upright here by 'Shanti cushion'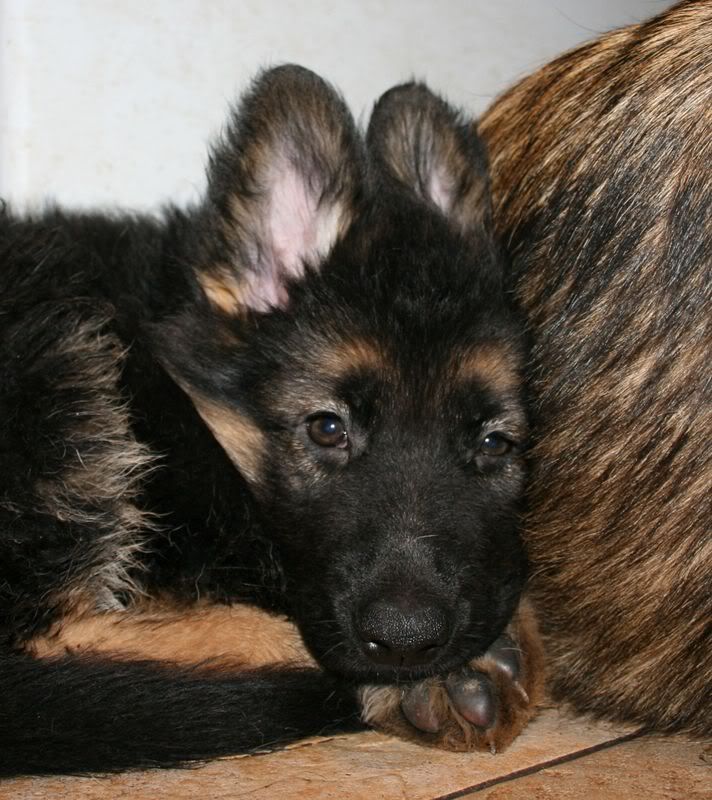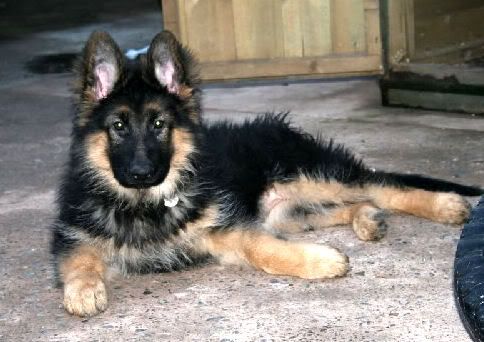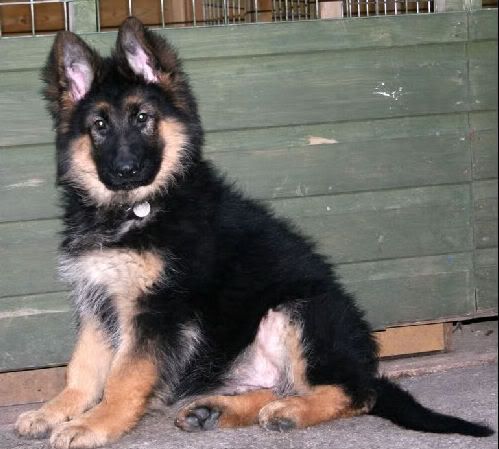 Learning to stand properley at dog club..........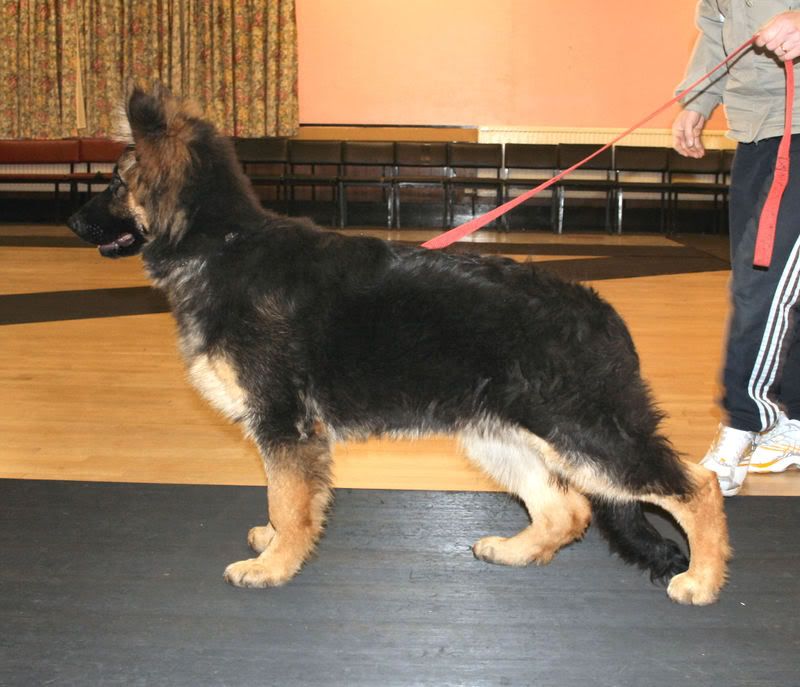 Vienna is such a character, as a puppy/adolescent, she almost had a sense of humour, she was a thief and a hoarder, Chris had many tools go missing, once he worked out who was sneaking into the garage to pinch them, he always knew where to look when something went missing, she didn't destroy things, she just collected them !! 
Please click 'HARVEY DOESN'T FEEL LIKE DANCING TODAY' To see Vienna in a very short video, with Harvey, a friend's dog who has grown up alongside our sheps.
Vienna, like all our girls, loves to swim, she too had an induction at Glenbrittle and then rapidly moved onto the sea and nearby lakes.
She looks very worried here doesn't she ?.......
The 'woe is me' act lasted about 10 seconds, then she was shouting her head off and thoroughly enjoying herself !!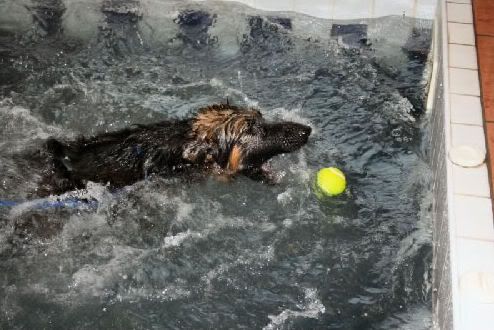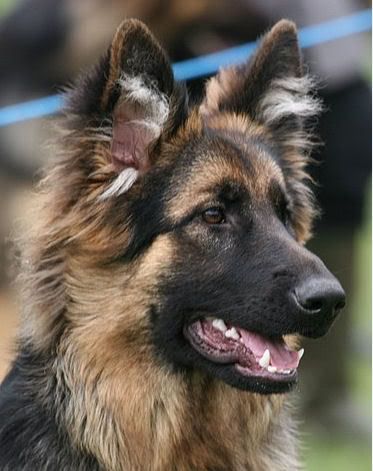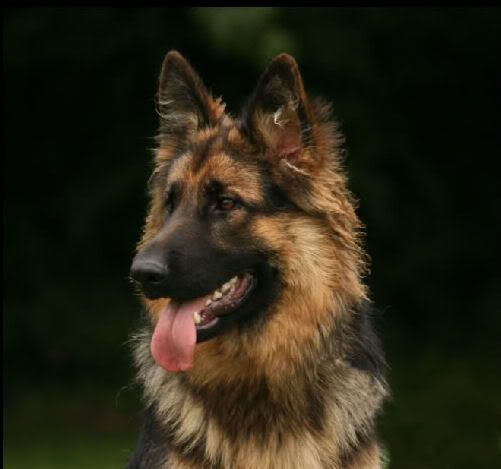 Vienna has proved to be quite a strong character within the pack, she holds her place well, she's not a trouble maker, but she's no push over either, she still looks to Shanti as 'Mum'  
 Click on DON'T STOP ME NOW to see a slideshow of Vienna taken when she was one years old.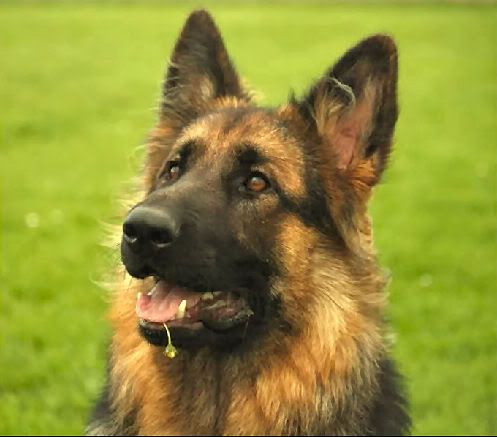 We are delighted with the way Vienna has turned out, both in looks and personality, she is a lovely looking girl with a very confident nature 
Vienna is fully mature now and you can see more of her HERE in action with all our other girls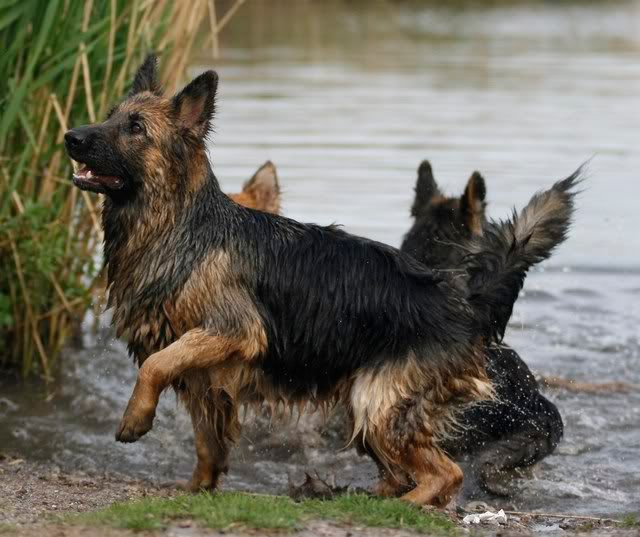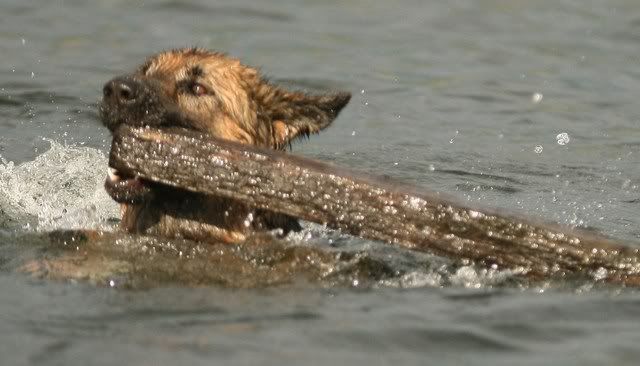 See her swimming and playing with some of the pack on the beach HERE