Playing now ~ The wonderful thing about Tiggers
  DOB  14:10:2008          Hip scored December 2009  6:3  
Meet the wonderful 'Tayzee' Our 2nd Zakasia girl, as if one wasn't enough !! I am never going to Paula's again when she has pups, they are so beautiful, I always seem to bring one home with me....
Tayzee was bred by our good friends, Paula and Mike Randall of Zakasia German Shepherds, she is half sister to our own 'Vienna'
Here is her Mum, Champion Ivory Lace, seen below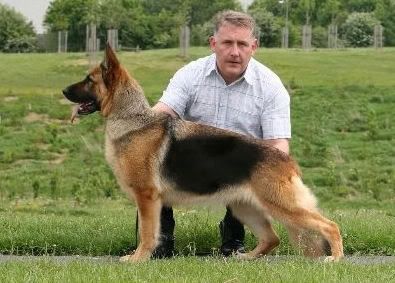 Her Dad is Rangemore Arko
      This combination of German and Middle lines produced beautiful puppies, not overdone or extreme in the germanic, but with very pleasing appearance and glorious shape....        
 May we present the beautiful Tayzee.......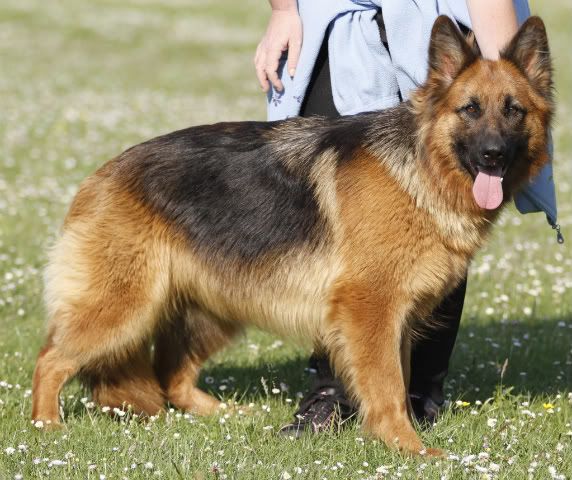 We are bias I know, but isn't she just gorgeous !!
Tayzee wasn't booked, or planned, we never had any intentions of having another Zakasia, but I helped to whelp the litter she was born into, which contained 14 puppies, I think my heart was stolen there and then......Still I resisted and studiously avoided revisiting the pups as they grew, I did not trust myself not to bring one home.
We then visited after they had all left for their new homes.....All except two, Paula was running on, but as fate would have it Tayzee turned out to be long coated and the second I laid eyes on her, I was hooked, that night Tayzee came home with us and they rest as they say is history....
Tayzee was and still is, undoubtedly the naughtiest puppy we have ever had, and puppyhood seemed to go forever with her, she still isn't opposed to taking out the odd drainpipe when she thinks nobody is looking, but for all her antics, I wouldn't swap her now for all the money in the world, although there have been times when I could have cheerfully murdered her ! 
But there is far more to Tayzee now she has matured, she is such a clever girl, so very bright and enthusiastic about every situation, every new experience, she adores life, embraces it and thoroughly enjoyes herself the whole time.  Tayzee is fun !! She loves everyone and everything she meets, and they love her.
A bouncy, flouncy personality, loaded with Vim and with Vigour, loves to leap in your lap..... always getting herself into trouble, but so very loveable and loyal.  Very shapely and feminine, Tayzee has a gloriously rich colour and a beautiful silky coat and is a very pretty girl.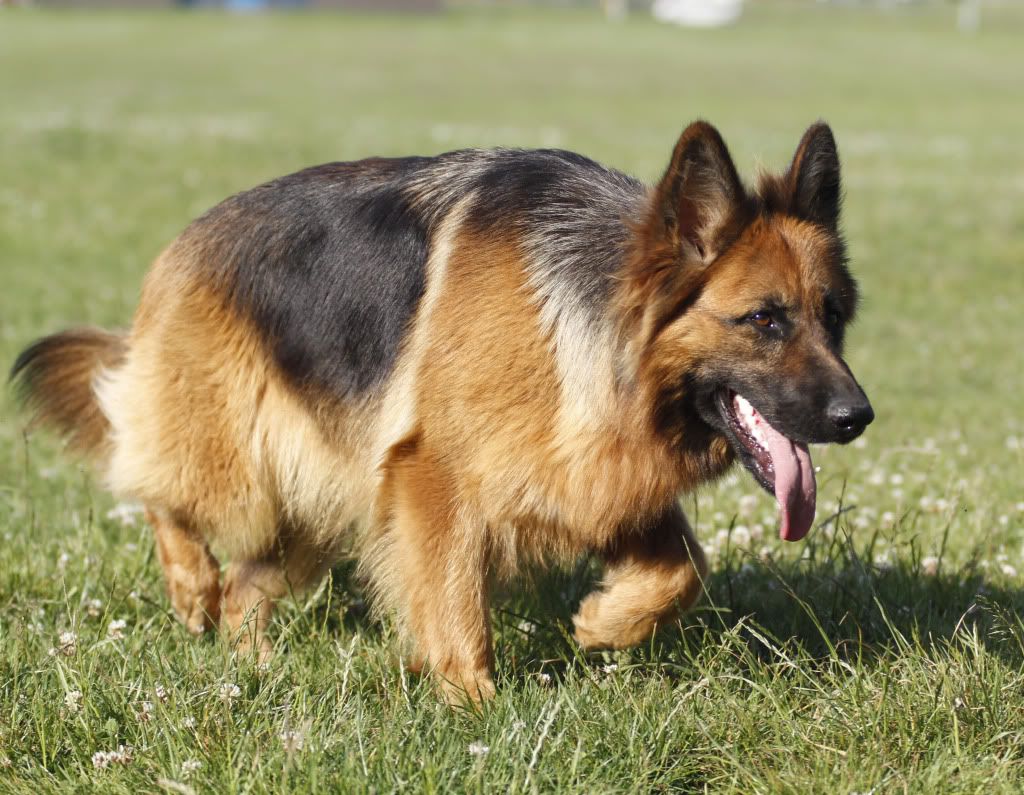 Tayzee was 13 weeks old when she came to Krisannrio, not a tiny puppy and I wondered how Shanti would react to her, but again Shanti's motherly insticts took over and before long She was cleaning and fussing over her. 
Tayzee was a holy terror of a puppy, but very cute !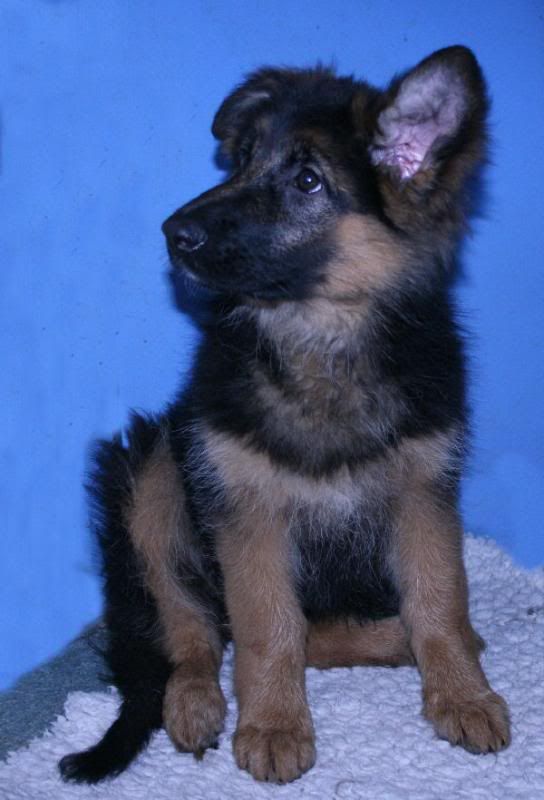 Her ears made the usual comical journey upward.....
And in Tayzee's case outward too !! Would she ever grow into those ears ?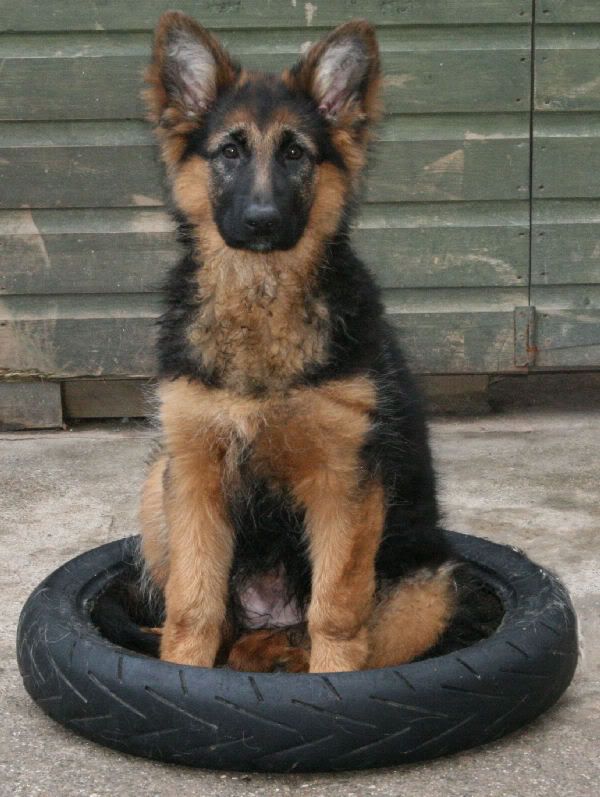 Tayzee bonded with the play tyres !!! During her times outside, when she had finished playing, she would stuggle down for a sleep..She continued to do this until she could no longer fit inside.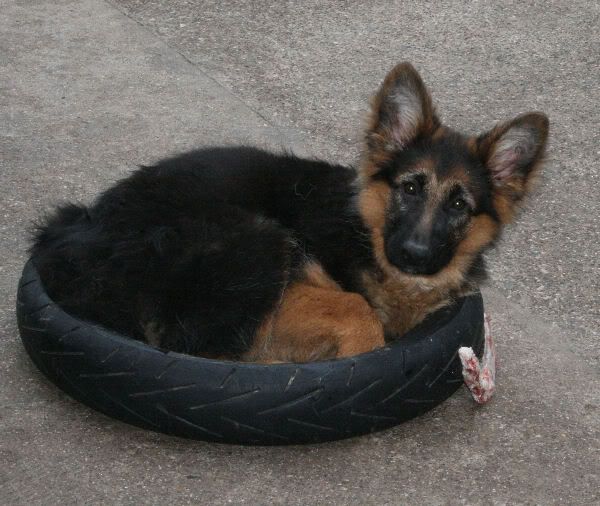 When she was about 6 months old, we took her for her first trip to the beach, we wondered if she would be tempted to go for her first ever swim.
Oh my !!  Would she ever grow into those ears ?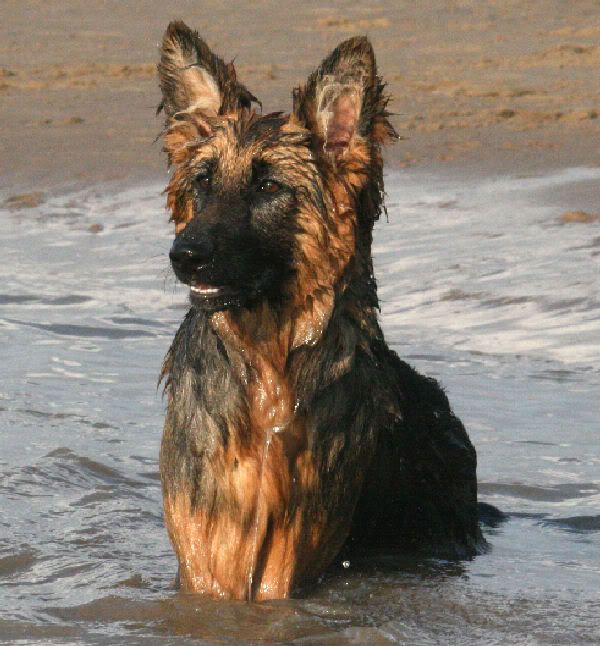 That day, she accompanied 4 of our other girls Tiffany, Vienna, Laska and Shanti, all accomplished swimmers, whilst she did have a little go......
 She spent the rest of the time bouncing round the edge of the swim area, with her half sister Vienna, trying to ambush incoming swimmers for their ball or stick !
We took a video camera with us and you can view the video 'HERE COME THE GIRLS' on you tube.
Doing what she does best....Bouncing....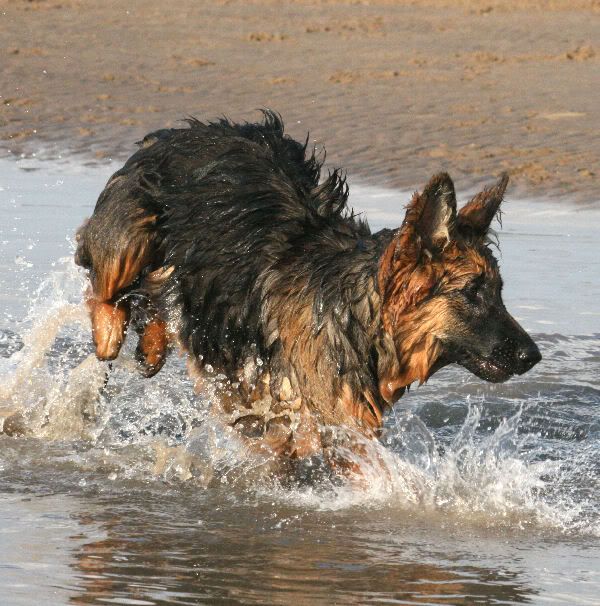 And getting absolutely filthy !!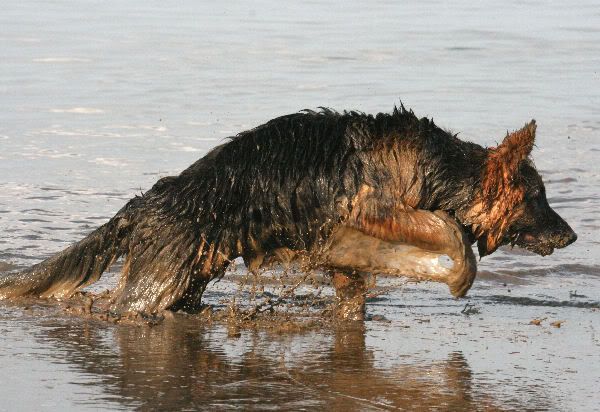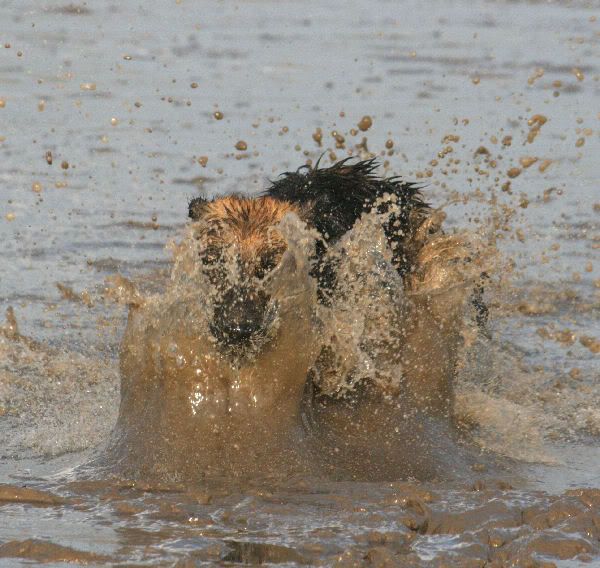 As the summer wore on, Tayzee started to turn into quite the little lady, by the time she was 8 months old, she was finally growing into her ears, which thankfully sorted themselves out to leave her with excellent ear set.
These two pictures are part of a series took that day and the rest may be viewed, by clicking on 'BUTTERCUP BABY'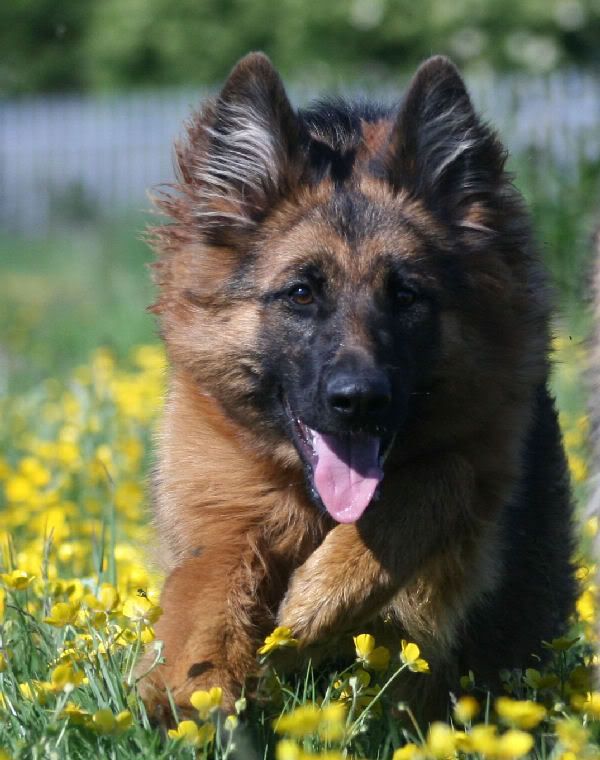 When she was 14 months old, she blew her whole coat and looked like a plucked chicken for a while..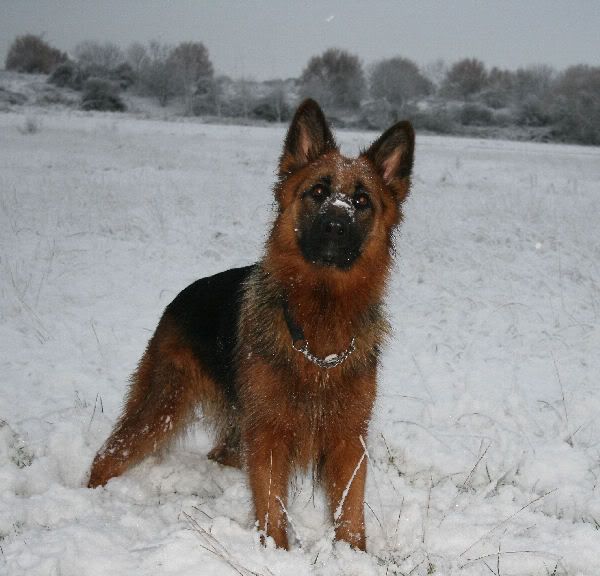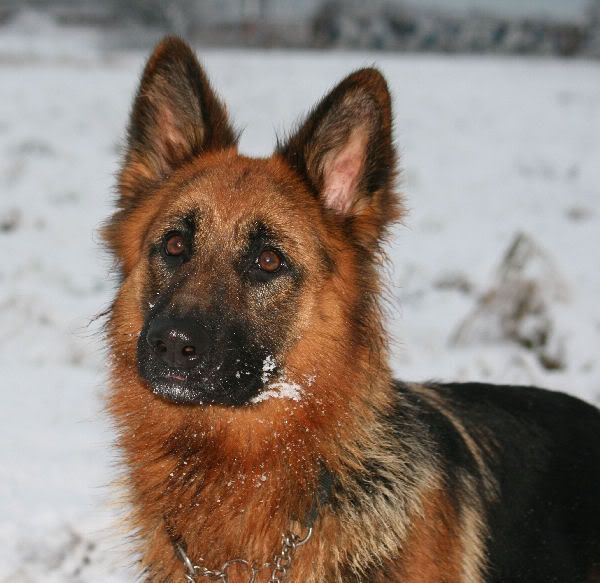 But it soon grew back, Tayzee maturing beautifully on the right..
Now nearly two, she has become a lovely member of our pack, she adores swimming and is suprisingly gentle and very patient with any puppies we have here, she really has turned into the most gorgeous girl, but still bounces everywhere ! 
She loves her trips to the beach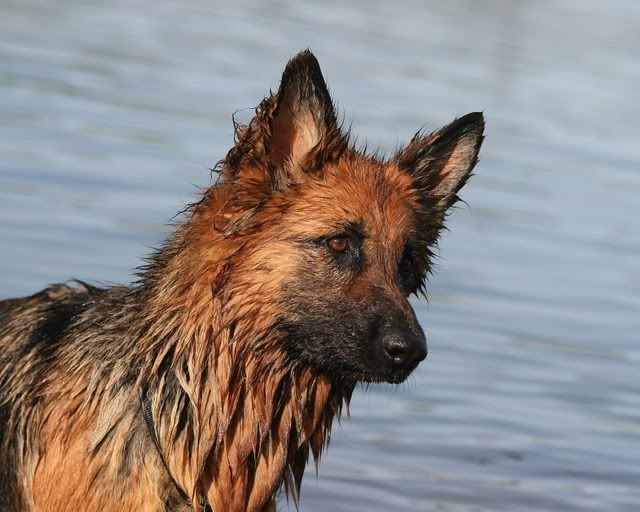 And can often be seen having a 'bad hair day' !!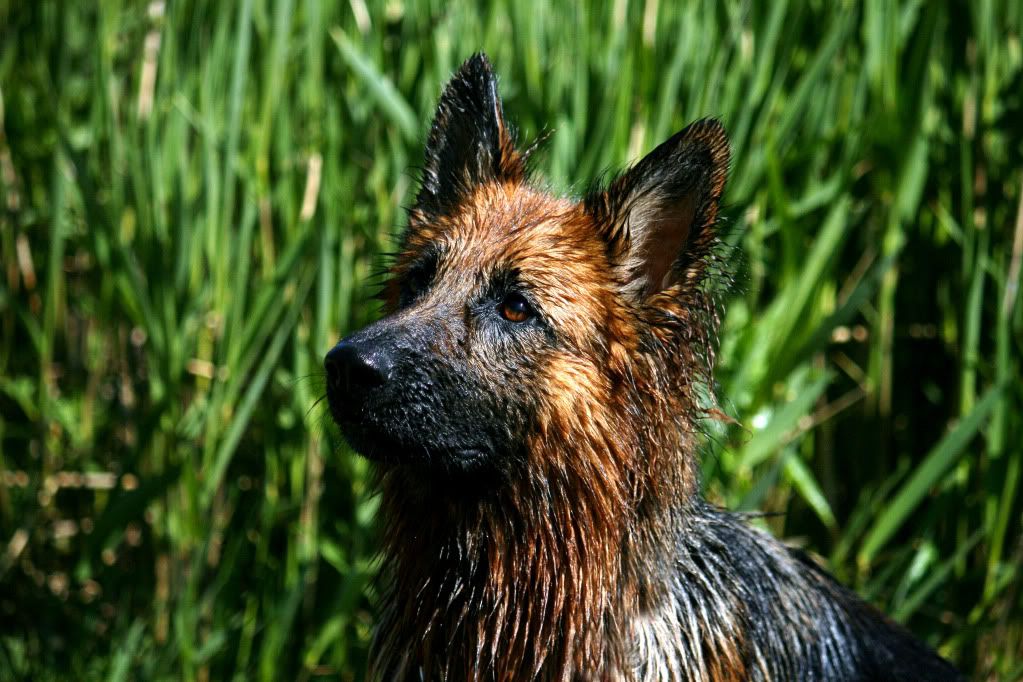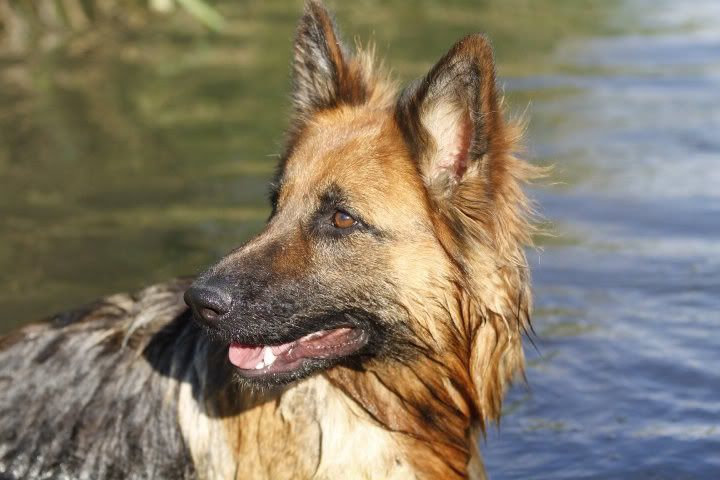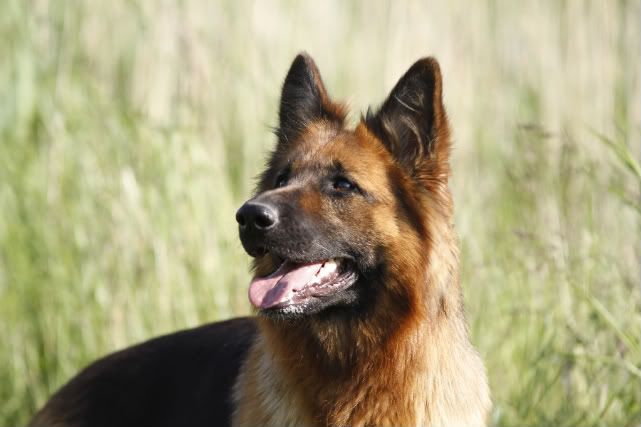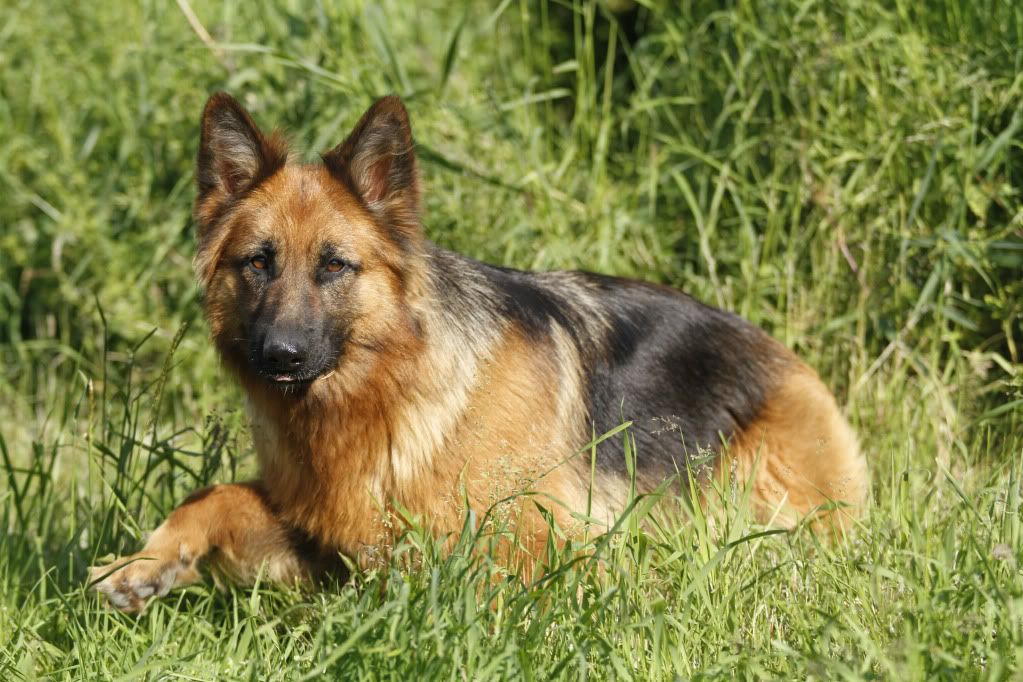 More of Tayzee can be seen in our group actions shots...CLICK HERE