Shanti is incredibly playful, she will play with anyone who visits and they get fed up long before she ever does ! She has developed a knack of 'chucking' her toy at you, and is a perfect shot at getting it on your knee !!
She thoroughly enjoys activity of any kind and if it involves water then so much the better !!
Here, aged 2, the kids set up some jumps for her... (It is very important NOT to let your GSD partake in this kind of activity, until the long bones are completely formed and developed, at around 18 months) This was an immediate hit with her and the kids got fed up long before she did !!
Shanti is a truly awesome sight at full gait.... that's her right in the middle...
Isn't she just gorgeous !!
Which brings us back to her number one favourite activity (apart from raising pups) ....Swimming !! 
Shanti is, as metioned earlier, trained to track, we don't 'do' harnesses, but prefer to set up 'free tracks' although she would and has worked on a harness, she is far happier out in the field doing her thing, but Shanti also thinks she can track under water, bless her, and has no problem at all completely submerging her head to search for the lost object, which 9 times out of 10 she will retrieve. 
Here, she is about 2.5 years old and thoroughly delighted with 'her' new swimming pool. 
There she goes searching underwater....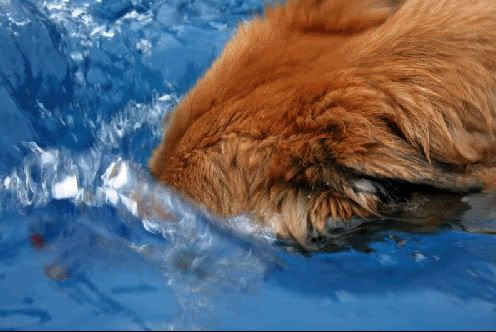 Click HERE to see Shanti swimming in 'her' new pool....
And again...another example of her searching..
 Found it !!
Never mind how big it is, if you chuck it, Shanti will retrieve...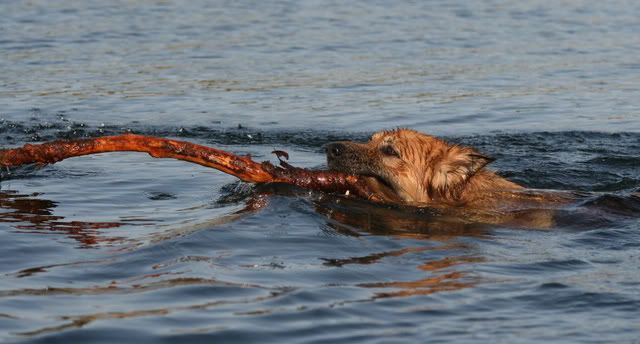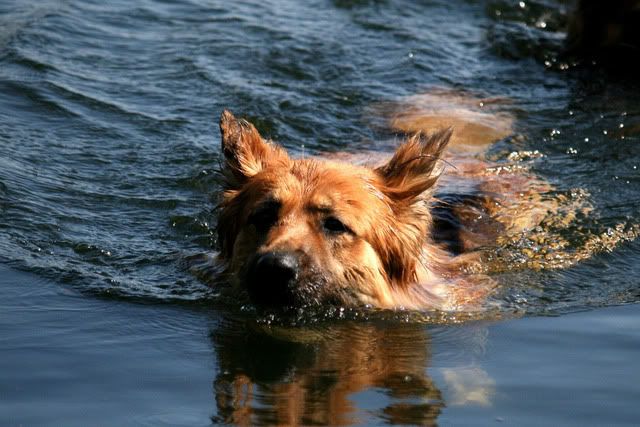 She's also not fussed if it's a mere muddy puddle, if it's got water in it then she's up for it !!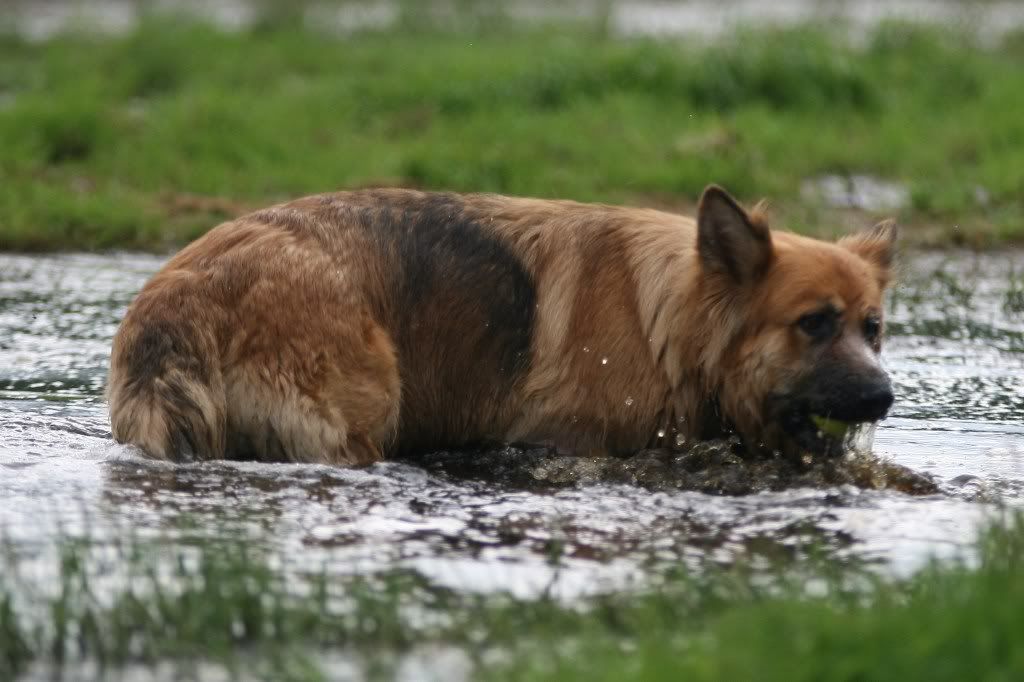 She also enjoys a bit of tyre chomping...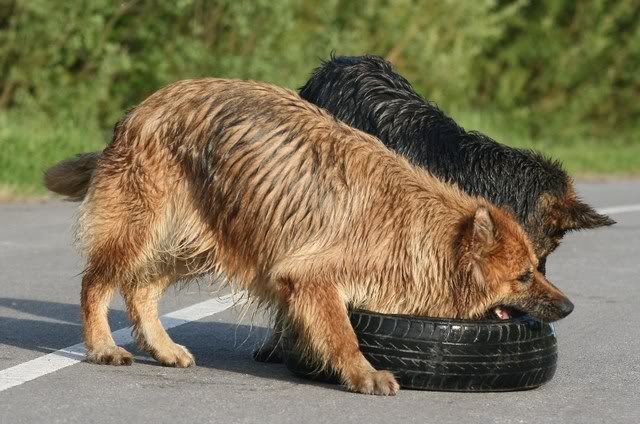 Here are a couple more videos/slideshows for you to see our Shanti in action...Don't forget to upgrade the quality via the you tube button and turn your speakers up for full enjoyment, all vids are to music.
Click HERE to see a short video of her swimming at West Kirby Marina, with her Daughter Laska, Vienna and Tiffany.
Click HERE to see her with 4 of our other girls at New Brighton Beach.
Click HERE to see her in the 'buttercup' fields with her Daughter Laska, Vienna and Tayzee. 
Shanti's obedience is 2nd to non, she made me very proud at a companion show we attended with her last year, I entered her into the 'retrieve a sausage' class....like a fool, thinking it would be a toy sausage and she would walk the class, I was shocked to discover whilst standing in the ring, that actually, it was a real, cooked sausage !! 
However she did not let me down, she was the only dog, in a huge class of about 28, to not only retrieve the sausage, but drop it at my feet and then back off, to sit and wait for it to be chucked again, she got a huge cheer and rosette :-)
 Shanti....what a star !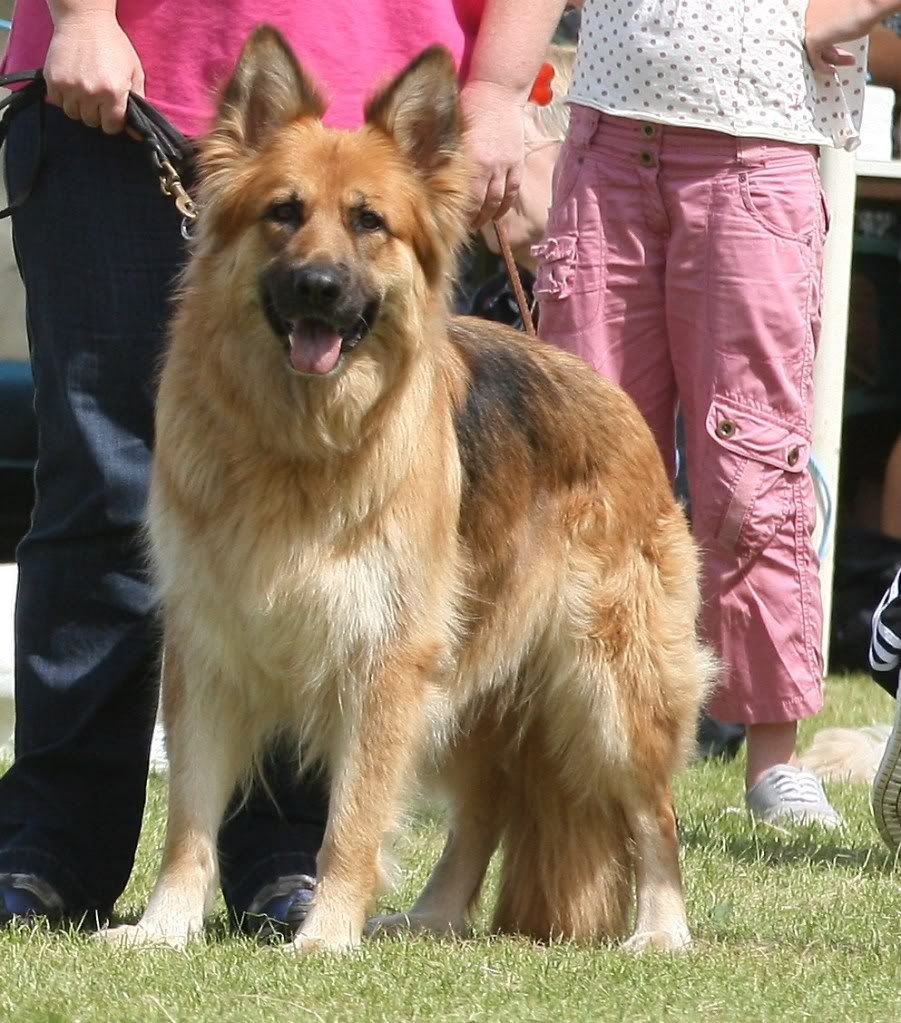 A couple of baby pics.....
Shanti, the day she came to us at 7 weeks old 
Seen here at around 14 weeks, her strong head is making itself known.
When Shanti was about 9 months old, she appeared as 'Miss October' in a long coat German Shepherd calander, picture below.
When Shanti has just turned 2, she gave birth to her first litter of pups.
She remained active throughout her pregnancy and had a straightforward birth producing 8 puppies, 4 girls, 4 boys, four of which were sable and four black and gold.
If you click on the link below, it will take you to some very graphic pictures of the birth of Shanti's first litter, they are magical photographs, with 3 different birth sequences, but be warned, they are exactly as it happens and it can get messy !!  
I would like to point out that Shanti whelped onto several brand new squares of carpet, which had been doubled over to be removed when badly soiled. I do not whelp onto newspaper, as I think it can get slippy for the bitch and the new born pups have nothing to get a grip of.  When whelping is completely done with, we then swap over onto vet bed.  
Shanti can also been seen interacting with more of her puppies by clicking HERE See here infinite patience with a litter of 6.5 weeks old pups.

See many of Shanti's kids in the 'Owners Gallery' HERE