Hello, my name is Ann Ridyard and the purpose of this site is to share my experiences and try to help anybody who decides that they would like to know more about Raw Feeding, what to feed and more importantly WHY to feed.
I would like to point out that this site is promoting a diet which includes meat and bones and advocates the use of minced meats when necessary.
I hope this site will be useful to both pet owners and breeders alike.
I am not a vet, nor am I qualified in any formal way regarding animal husbandry, my qualification is drawn from my experiences in both methods of feeding and this is what I would like to share with you.
Calling my method 'The Krisannrio way' is not an ego trip for me !! it's just what it says - my way, you can choose to follow my way or adopt a method of your own, so long as the basic principles are adhered to it seems to me everybody does it differently, that is why I thought that for beginners a general guide through all the differing views would be helpful, I hope you find it so, a visit to my guestbook before you leave would confirm this. 
I have 27 years experience with German Shepherds, I raw feed all my pups and try to ensure that they go on to homes which will continue this method of feeding as I believe it to be paramount to a dog's health and well being.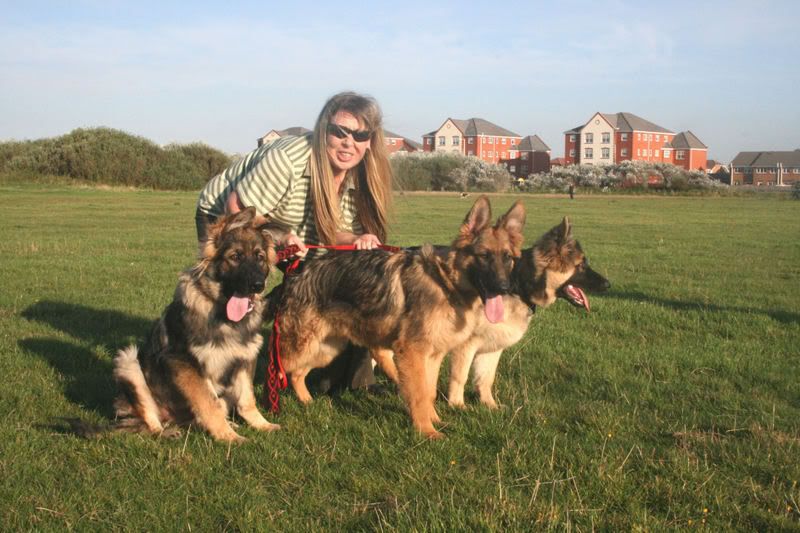 When I discovered Raw Feeding for myself, I was overwhelmed at how many different opinions and conflicting advice there was, on the correct way to do it..... what was the correct way?..... who should I ask?.... which books should I follow? whose advice should I take?..... everywhere I turned there seemed to be different ideas.
I found my own path through the confusion and it is this that I would like to share with you, I feel that I am now feeding my dogs the best possible diet that I can give them, when you have read through this site, you will begin to question what you are feeding your own dog and that is great because it means you are now thinking about it
Please take the time to follow the links as there is the most enormous amount of information on them which will help you to make and informed choice as to the way you wish to feed your dog.
If you are a raw feeder yourself, and would like your link adding to my page of raw feeder/breeders then please do not hesitate to contact me - I will be happy to swap links, my email is :- [email protected]